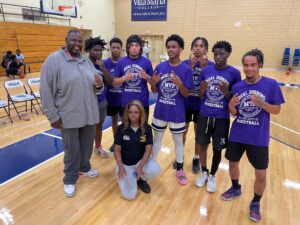 Introduction
Last Sunday marked the beginning of an exciting journey as we kicked off the Neal Dobbins Inner City Basketball League, an initiative that promises to bring positive change to our community. The inaugural game day was filled with energy, excitement, and a shared sense of purpose. The youth who participated couldn't contain their enthusiasm, and their eagerness for the next game is palpable. In this blog post, we'll take you through the highlights of our league's launch, its unique aspects, and the powerful mission behind it.
A Name That Resonates: Neal Dobbins Inner City Basketball League
Our league is not just any basketball league; it's named after a person who made an indelible mark on our community – Neal Dobbins. Neal was a beacon of hope and inspiration for countless young individuals in our inner city. Through his dedication to mentorship and community service, he showed us the power of positive role models. Naming our league after him is a tribute to his legacy and a commitment to continue his mission.
A Day of Excitement and Unity
The opening day of the Neal Dobbins Inner City Basketball League was nothing short of spectacular. The atmosphere was electric, with friends, family members, and community supporters all coming together to celebrate the start of something special. The young athletes showcased their skills on the court, demonstrating their dedication to the game and their determination to make a positive change.
Restorative Circles and Life Skills Workshops
What sets our league apart from traditional sports programs is the emphasis on holistic development. To participate in the Neal Dobbins Inner City Basketball League, the youth are required to attend restorative circles and life skills workshops. These sessions provide them with valuable tools to navigate life's challenges and build essential character traits such as communication, teamwork, and conflict resolution. It's not just about excelling on the basketball court; it's about excelling in life.
Reducing Violence Through Positive Programming
At the heart of our league's mission is a commitment to reduce violence in our community. We believe that by providing our youth with positive programming and a safe, supportive environment, we can steer them away from negative influences. Basketball serves as a vehicle for personal growth, teamwork, and discipline, helping our participants build a foundation for a brighter future. By addressing the root causes of violence through education and mentorship, we aim to break the cycle and create lasting change.
Looking Ahead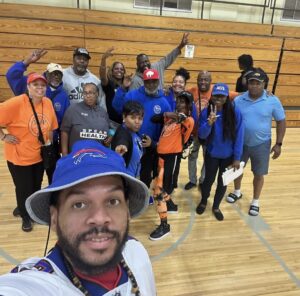 The Neal Dobbins Inner City Basketball League is just getting started, but the impact it has already had on our community is undeniable. We're excited to see our young athletes grow, not only as basketball players but as responsible, empathetic individuals. With each game, workshop, and restorative circle, we move one step closer to a safer and more united community.
As we look ahead to the next game, we invite everyone to join us in supporting this transformative initiative. Whether you're a basketball enthusiast, a community advocate, or simply someone who believes in the power of positive change, there's a role for you in the Neal Dobbins Inner City Basketball League. Together, we can make a difference, one dribble at a time.
Conclusion
The launch of the Neal Dobbins Inner City Basketball League was a resounding success, thanks to the enthusiasm and dedication of our young athletes and the support of our community. As we move forward, we are excited about the positive impact this league will have on our youth and our community at large. Through restorative circles, life skills workshops, and the love of basketball, we are on a mission to reduce violence and build a brighter future for our inner city. Stay tuned for more updates, and join us on this inspiring journey of hope, unity, and positive change.