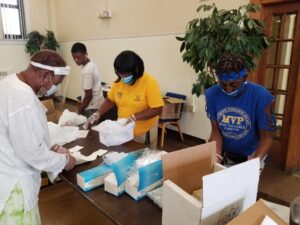 MVP'S model is "It takes a village to raise a child" and that is what we believe.
We want to come together and do what we can to make a better life for our children.
Among our objectives (but not limited to) include educating young parents on how to be better parents, working to get laws changed to fight against illegal guns like the Tiahrt amendment, and helping families obtain food or PPE to promote health and safety during the Covid 19 Pandemic. Everything we do is done to enhance the quality of life in our community. We are a parent group in Buffalo NY, and we fight for change in our community.
There are many Community organizations in Buffalo NY that do an awesome job! We are unique in the sense that we work with the parents and the children and we look at things from a synergistic approach. This past week June 17th we held a Citywide Mask and Food Giveaway. We put together a coalition of more than 20 different businesses, organizations, and local government and partnered up with The Buffalo Public Schools to service the residents of the city. We passed out masks and food to city residents in all four sectors of the city. While most of our time is spent helping the residents on the East side, this pandemic has affected the entire city, therefore we decided to expand our reach and help as many people as possible.
The response from the Giveaway was so positive and the need was so great that we are having a phase 2 next Month. There are many more people that need our service and the pandemic is not over.
We will be reaching out to more businesses, local government, Fire and Police Departments and organizations like ours to come together once again to service the people of Buffalo.
We are a new Community /Parent organization, so we must support ourselves. If you want to volunteer or donate, please fill out the contact form on this website. We appreciate you!