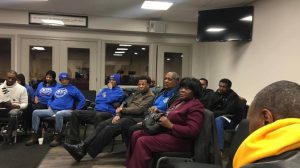 How do people react when they hear community members were shot to death just for being black? The emotions run the gamut– from fear to sadness, anger to pain and more… The tragic shooting in Buffalo at Tops affected not just the lives of the people who work there or shop there, but also the entire East Side of Buffalo, and, honestly, the entire city of Buffalo as well as Erie County, the state, the nation and, since it made international headlines, the world. What could have divided people, though, ended up bringing communities together, as all sorts of folks from different backgrounds came together to show one another support during such a terrible time.
Why Community Organizations Matter
Why is it important that communities, like Buffalo, come together? It's important that people feel seen, heard and respected. It's also important that people feel loved and not forgotten. MVP of Buffalo had one individual donate 11 boxes of sports cards which could be passed out to children on the East Side. That individual, through MVP of Buffalo, wanted to put smiles on children's faces during a time of intense sadness. That's just one example of how a community group like MVP of Buffalo could mobilize its mission, to empower youth and "take back" the community.
One shooter stole the lives of several community members, and that was a terrible tragedy. Imagine how you'd feel if a mass shooting took place in the supermarket where you shop for groceries. Innocent people died because of one young man's hatred– and instead of ignoring this, thousands of people literally came together to decry the violence, mourn the victims and get to know one another rather than stay isolated.
Feeling Like You're a Member of a Community is Vital Human Experience
Being part of a community is a very human experience– we weren't meant to live all alone. Having groups like MVP of Buffalo take the time, energy and interest in making people's days a little better is exactly what's good about living in a community that shows support for each other– no matter what color, creed or background.
Imagine if no one shared anything with anyone… Imagine if we all stayed indoors on our screens, day in and day out. That is not an ideal life. Being surrounded by supportive people with whom we feel connected (and loved)? That's a great benefit of being in a community like Buffalo, NY.
If you have any questions about our MVP Buffalo, contact us today.