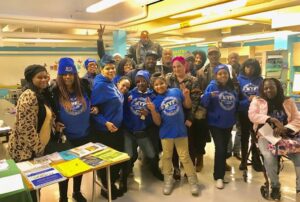 Coming to Buffalo from another country can be a challenge, right? In an area that has been predominantly Catholic/European for generations, where can Muslim newcomers go to feel welcome in the community and meet fellow newcomers, too? Well, MVP of Buffalo is a community organization that has a parent support group for Muslim families settling in Buffalo. Are you a parent with a child or teen and you sometimes feel like you wish you had other parents to talk to about how to deal with your kids? This is the group for you!
When you're new to a country and city, of course you want to become an active community member with the people around you, but that can be hard, especially if you don't share the same language, culture and customs. That said, there is strength in numbers. You are not alone; There are other Muslim parents who are fairly new to Buffalo who want to meet new people, too, and share their experiences. This is an opportunity to not only make new friends, but also learn tips and ideas for dealing with kids as they make the transition to a new school, and, for some, a whole new culture that's very different from the one they remember.
Parenting support groups help parents have a place to share what's going on in their families in a supportive and nonjudgmental environment. You're likely to find out that other parents have kids who are struggling with something, and not everyone's "perfect" like they pretend to be!
In Buffalo, NY, MVP offers a support group where parents can discuss specific issues they're having, learn from others, and get expert advice. These are difficult times for the world, especially with the relentless COVID pandemic; Sometimes it helps just to get together with others and share what's going on so you can find some hope and humor about your own situation. Want to join the Muslim parenting support group in Buffalo? Please call 716-335-3640 or email info@joinmvp.org for more info.