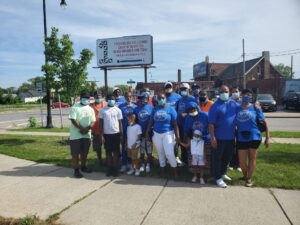 According to a study conducted by the American Journal of Medicine, between the years of 1999-2017, about 39,000 gun-related deaths occurred among children and teens ages 5 to 18.for this whole number, black children and teens accounted for 41% of the gun-related deaths. Actually, black children and teens are 14 times more likely than white children and teens of the same age to die by gun homicide.
These numbers are terrifying for any parent. As parents, our main goal is to ensure that our children are safe. It is for this reason that we at the Most Valuable Parents of Buffalo (MVP) have decided to take a stand against gun violence during a press Conference to launch our campaign. The press Conference will also serve as an opportunity to present our Anti- Gun Trafficking billboards throughout the city.
The billboards are intended to educate the people of buffalo on the dangers that Gun trafficking poses to our city of Buffalo. At MVP we believe that one of the roots of gun violence is gun trafficking.
New York has strict gun laws to help minimize gun crimes in the city. However, these laws are less effective when the gun can easily be bought and brought from out of the State. Research has shown that 86% of all handguns recovered from New York crime scenes came into the city from out of state. Most of the coming from what law enforcement refers to as the Iron Pipeline. The Iron Pipeline includes states like Florida, Georgia, North and South Carolina, Virginia, and Ohio. In most of these states, gun rules are loose and guns are easier to access. These guns are then trafficked into New York City where they are used to cause gun violence.
This information is what our billboards will focus on. The more the masses are aware the more we can do to ensure that our children are protected from gun violence.
We are also fighting to educate our community on the TIAHRT Amendment and do everything in our power to support anyone interested in repealing the TIAHRT amendment by supporting commitment letters from all community stakeholders.
It is our mission to assist in eradicating gun violence in our community.